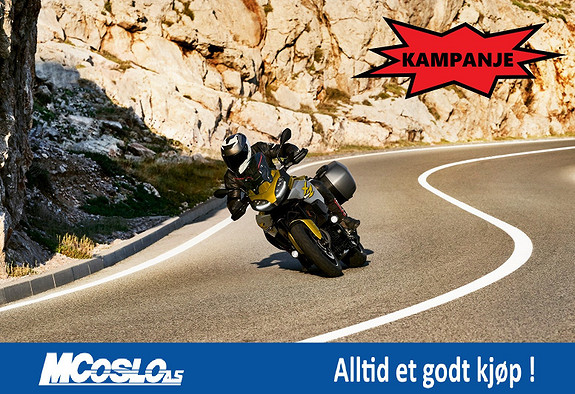 BMW F 900 XR /// SPAR OVER 21 000
BESKRIVELSE
VI HAR ELLEVILLE KAMPANJEDAGER PÅ BMW F 900 XR! SIKRE DEG DIN NYE BMW MOTORSYKKEL MED OVER 21 000,- I RABATT. 


Nå har du mulighet til å skaffe deg den fullutstyrt F 900 XR og masse kjøreglede!
Sykkelen håndterer svinger på en fenomenal måte, og vil gi deg adrenalin i hver eneste sving, mil etter mil. Sykkelen er oppreist for en avslappende sittestilling, god oversikt og beskyttelse mot vær og vind. F 900 XR er ikke bare pent design og avansert teknikk. Sykkelen er presis, kontant og vil passe alle type førere på ulike veier. 
KAMPANJEN INNEBÆRER OG EN KUNDEFORDEL PÅ OVER 21 000,-
PRISEKSEMPLER ULIKE FARGEVERSJONER MED PERFORMANCEPAKKE OG SIDEVESKER:
HVIT   =     182 800,-
RØD    =     185 290,-
GULL   =    185 290,-
***KAMPANJEN GJELDER KUN ET SVÆRT BEGRENSET ANTALL SYKLER OG KAN IKKE KOMBINERES MED ANDRE TILBUD ELLER KAMPANJER***

Standard equipment
Coloured TFT display with BMW Motorrad Connectivity
LED headlight (low / high beam)
LED indicators
ASC
Riding modes Rain/Road
Adjustable hand brake and clutch levers
12V socket
Windshield adjustment    
Optional equipment  (Inkludert)
Headlight Pro incl. adaptive curve light
Riding modes Pro incl. ABS Pro / DTC / MSR / DBC  
Dynamic ESA (electronic suspension adjustment)
Case holders
Main stand
Keyless ride
Intelligent emergency call
VI KAN:
Tilby finansiering fra kr. 0,- kontant og med inntil 120 måneders nedbetalingstid.
Tilby gratis betalingsutsettelse av inntil kr. 75,000,- i opptil 9 måneder
Ta motorsykkel i innbytte 
Være behjelpelig med transport
Tilby vinterlagring
NB! Vi tar forbehold for feil i annonsen.
Søkeord: f900xr, bmw f 900 xr, bmw f 900xr
SPESIFIKASJONER
Modell
F 900 XR /// SPAR OVER 21 000
ID
Updated: 2021-04-06T19:30:00.000Z
Published: 2021-04-06T19:36:00.000Z
Is Private: false
Status:
Ad Type: Motorsykkel