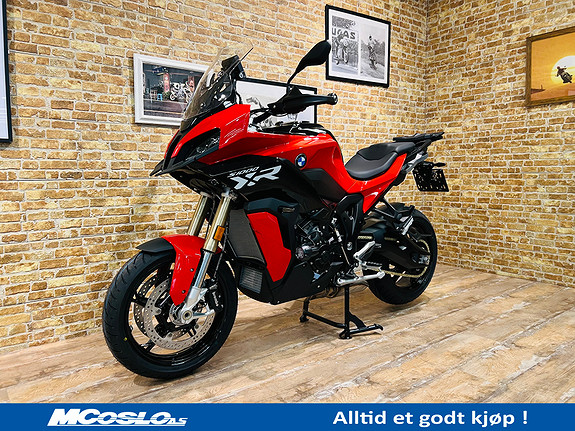 BMW S1000 XR
BESKRIVELSE
BMW S 1000 XR 2023 - KLAR FOR RASK LEVERING

BMW S 1000 XR er en kompromissløs sykkel med gedigent potensiale. Sykkelen er svært kraftfull med 165 HK fra den oppdaterte firesylindrede motoren. 

S 1000 XR er en kjøreglad sykkel som gjerne vil kjøres. Den er gladelig med på raske runder rundt banen eller en bekvem tur. Sykkelen kombinerer en atletisk chassis med racing krefter og egenskaper for å gi det beste i alle situasjoner. 

Sporty og agressiv fra banesykkelen RR kombinert med turkomforten til GS gjør XR unik. Ingen over - ingen ved siden av. 
XR har og fått store design og teknologiløft. Sykkelen har LED hovedlykter av kraftig LED og et heldigitalt TFT instrumentpanel. Fronten er definert av skarpe linjer vidrefulgt av høy finish til sykkelens bakende. 


Pris gjelder Sykkel med performance pakke og endurance kjede i standard farge.

Utstyrspakker:

Comfortpakke
Adaptivt hovedlys
Nøkkelløs start
Led kjørelys
Hovedlys pro
Dekktrykkskontroll
Håndbeskyttere
Alarm
Hovedstøtte
Touringpakke: 
Comfortpakke inkludert
Elektronisk justerbar fjæring (Dynamic ESA)
GPS forberedelse
Cruisecontrol
Veskeholder
Performancepakke: 
Comfortpakke inkludert
Touringpakke inkludert
Gearshift asistent (quickshift)
LED ekstralys

M-Pakke:
M-sport sete
M smidde felger
M endurance kjede
Sport lyddemper (Akrapovic)
Sotet vindskjerm
M batteri (litium)
Sportsdisplay
Standard equipment
Full LED lights
Riding Modes Pro (incl. HSC Pro, MSR, ABS Pro & DTC)
Dynamic ESA
Integrated pannier holders
Varmehåndtak
Storage compartment underneath seat
TFT-Display
Emergancy call
Optional equipment (OE)
Dynamic ESA Pro
Shift Assist Pro
Headlight Pro (iconic DRL/position lights & Adaptive Cornering Lights)
Keyless Ride
RDC
E-Call (where available)
M Forged Wheels
M Lightweight Battery
LED Auxiliary Lights
Luggage rack
Carbon package and much more
Optional accessories (OA)
Panniers
Top case
Soft bags
Carbon fiber crash bars
Low/tall/tinted windshield
M machined parts and much more    
VI KAN:
Tilby finansiering fra kr. 0,- kontant og med inntil 120 måneders nedbetalingstid.
Tilby gratis betalingsutsettelse av inntil kr. 75,000,- i opptil 9 måneder
Ta motorsykkel i innbytte -Være behjelpelig med transport
Tilby vinterlagring
NB! Vi tar forbehold for feil i annonsen.
S 1000xr, bmw S 1000 xr, bmw s 1000xr, s 1000xr motorsport
ID
Updated: 2022-11-24T13:49:00.000Z
Published: 2022-09-27T08:58:00.000Z
Is Private: false
Status: Solgt
Ad Type: Motorsykkel